Choosing an engagement ring is a huge, exciting, but sometimes nerve-wracking decision. After all, you'll be carrying that little sparkle around for the rest of your life. But what if someone could make your journey a little easier, a little more fun, and a whole lot more creative?
We at Village Jewelers know it's important to know your options in engagement rings, so you can best know what you like, what you don't, and what you never even thought of. There are so many options, but only one is perfect for you and your partner.
Luckily, this year has been a mile marker in engagement ring creativity, uniqueness, and style, as the below list will show! From stone shape and angles to halos and stacks, it's never been a better time to find unique, or custom, engagement rings in Frisco, TX.
Top Engagement Ring Trends of 2018
Over the Moon for Oval
Oval diamonds give a retro look, which is coming back into style with force!
These little beauties hold a similar form to round-cut, the most popular and common, with a little something extra to set you apart.
If you can't find the perfect oval to get you smiling, consider a custom piece, as then you can create exactly what your dreams are made of.
See our custom oval piece below!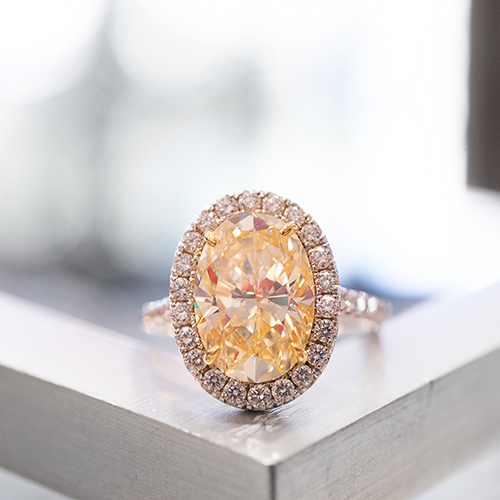 Chevron Shapes to Share
Chevron bands are delicate yet daring, giving a typical band extra movement, flow, and flair. These little peaks can make your ring go from nearly to Neverland without being too over-the-top.
If you like classic styles with a little twist, consider chevron as a traditional take on creativity and uniqueness.
Also, stackable chevron shapes can be a huge wow-factor and add a new dimension to any style. See our stackable section below!
Horizontal Stones for High Glamour
East-West styles, or when the stone is horizontally set instead of vertically, are daring, unique and different, making your engagement ring the life of the party.
If you like tradition a bit more than trend, consider having just the smaller stones East-West oriented, and the center stone vertical. This gives a nice diversity of shape, movement, and orientation, without overwhelming and taking away from the classic beauty of the diamonds.
See an example of one of our custom rings with side East-West and vertical stones below.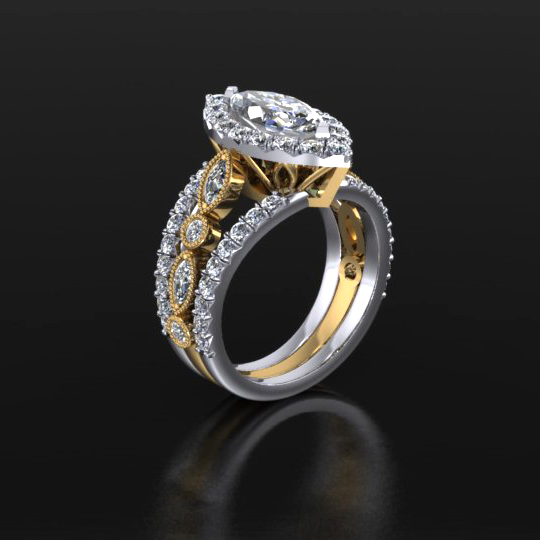 Pears for your Pairing
Pear shaped diamonds are uncommon, vintage, and perfect for a daring woman. If you like curved edges and sharp lines, then a pear cut diamond might just be your next best friend.
Pear cut diamonds are more vintage than round, square or oval, but they have a delicacy to them that complements the shine, sparkle, and show of the diamond nonetheless.
If pear is a little too wild for you, consider oval (as seen above) for a taste of tradition, while keeping your individuality.
Hail Halos
Of course, all diamonds deserve halos as they are shining specks from heaven, but the trend of highlighting your angelic stone is catching up quickly.
No matter the size or cut, you can customize a ring perfectly with a halo fitting around your center stone, or stones, to amplify the beauty and wow of your engagement ring.
See an example below of just how 'extra' a halo can make your ring finger!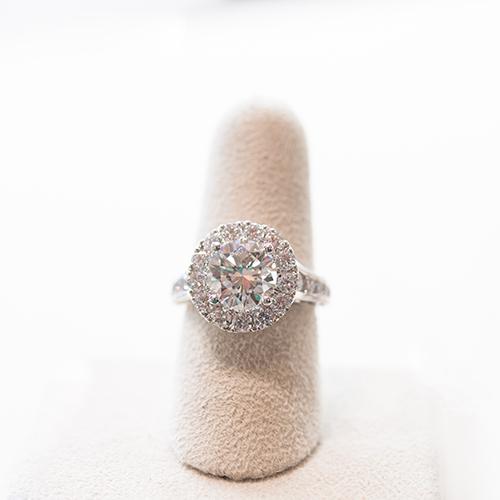 Stacked to the Stars
No ring trend is complete without a friend, or a few. So, try on some stacked rings at Village Jewelers during your next visit, as sometimes, more is better.
Stackable rings can work with traditional shapes, or unique ones such as the Chevron from above.
Additionally, you can mix and match your styles for a more individualized look from the start or add to your engagement ring or wedding band as your marriage grows.
There really is no such thing as too many rings.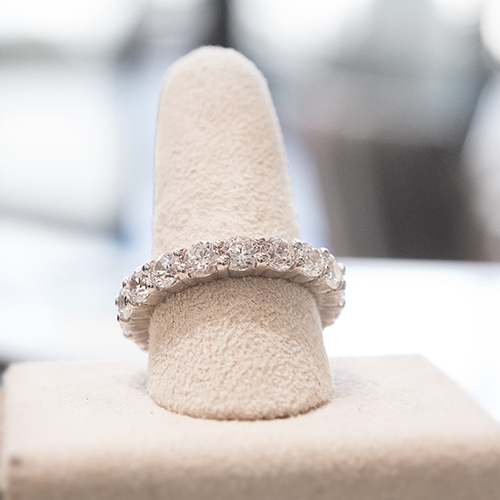 More Questions? We Can Help.
There is nothing we at Village Jewelers love more than engagement rings, especially creative, unique or custom rings!
If you are looking for something more, something set apart, then look no further and come into Village Jewelers today.
Peruse through our custom pieces, our store of beautiful stones and settings, or meet with us to create your very own one-of-a-kind piece.
We can't wait to see you. Call today!