Love Happens. We'll be Waiting.
Proudly offering fine jewelry, fresh cut diamonds, engagement rings, jewelry repairs, and unique custom jewelry in Frisco and the Dallas-Fort Worth area for over 40 years.
Village Jewelers Frisco TX
Do you want to design custom jewelry in Dallas, Frisco, or the surrounding areas for your loved one? Are you looking to start a tradition or complete a set? Or are you more in the mood to browse from a wide collection of carefully curated, existing pieces? Regardless of your needs, Village Jewelers of Frisco, TX is sure to be able to find exactly what you are looking for – or make it custom.
Village Jewelers has been in business for over 40 years. During which we have brought our experience, expertise, passion and commitment for creating one-of-a-kind Frisco jewelry to your community. Because custom jewelry is our passion.
We are your top jewelers in Frisco, TX, offering jewelry repair, custom jewelry, and stunning engagement rings to suit your needs, taste, and budget. We pride ourselves on our customer services, listening ears, and commitment to making sure you love the ring, necklace, watch, or any other piece of fine Frisco jewelry you choose.
Consider Village Jewelers in Frisco, TX your number one local, trusted fine jewelry store.
While all diamonds are precious, those closest to the top of the pyramid possessing the best combination of cut, clarity, carat weight, and color are the earth's rarest and most valuable.
So, whether you are a pro or still learning the ins and outs of diamonds, read our Diamond Buying Guide so you can be confident in your needs, wants, and purchase.
Still have questions? Contact our knowledgable and friendly team of diamond and Frisco jewelry experts to learn more about our fine jewelry, fresh cut diamonds, and the engagement ring buying process.
Village Jewelers, as one of the top jewelry stores in Frisco, TX, knows the value of each diamond we house, and can help you find the perfect match for all your needs.
We love love, and we know that buying diamonds whether for earrings, bracelets, necklaces, or an engagement ring should be a lovely experience for both the giver and receiver.
Come in today and be dazzled by our diamond collection. 
Want a piece of Frisco jewelry but just cannot seem to find the right one? At Village Jewelers in Frisco, TX, we create one-of-a-kind custom jewelry pieces to fit exactly what you're picturing. Whether you want extra shine or wow factor, or an understated piece that will stand the test of time, our custom jewelry in Dallas can make your dream a reality. Even if you don't know exactly what you want, we can help you know your options so you leave with the perfect custom piece that fits you.
Contact us for more information or to start your journey to finding that special piece.
Appraisals & Jewelry Repair in Frisco Tx from your Local, Trusted Jewelers
At Village Jewelers in Frisco TX, we are experienced in a wide variety of jewelry repairs and appraisals. Whether it's a ding or a snap, we can get your jewelry back to its usual perfection – sometimes the very same day!
We'll need to see your precious piece before we can quote a price or timeline, but with our hundreds of satisfied customers, you can rest assured that we will do the very best job and always keep it in-house, so you know exactly where your jewelry is, even when it isn't on you.
Get in touch with us today to learn more about our services and jewelry repair in Frisco TX, and see what we can do for you, your jewelry, and its sentimental value.
Our jewelry repairs in Frisco TX set your mind at ease by knowing you're in good hands and our 40+ years of experience speak to the quality of work and our superior customer care.
If you think the jewelry repair at Village Jewelers is impressive, just wait until you see the watch repair reviews we've received! Village Jewelers is known for watch repair, no matter the timepiece, no matter the brand or age – we are the very best at repairs out of any of the jewelry stores in Frisco, TX, and we'd love to show you why.
So, if your watch isn't keeping time like it used to, and you find yourself in need of watch repair, give us a call and see how we can make time fly!
Your Local Jewelry Store
| Our Frisco Jewelry |
At Village Jewelers of Frisco, TX, we have a large selection of fine jewelry, some of which can be seen on display in our gallery below. But even if you don't see the piece that was meant to be, come on in and speak to our knowledgeable and friendly team to see if a custom piece is right for you.
Engagement Rings
Look through our jaw-dropping selection of engagement rings and start preparing for your big day! We have an extensive collection of engagement rings in Frisco, TX to make your engagement, wedding, and marriage shine.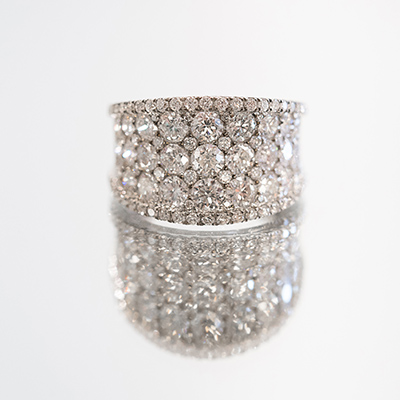 Fashion Rings
We don't just have engagement rings, we also offer a wide variety of beautiful and unique, custom-designed rings for any occasion.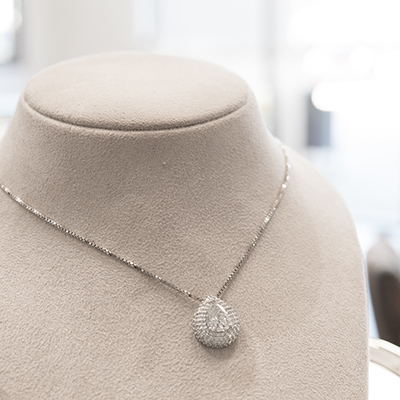 Necklaces & More
At Village Jewelers, we are your premier Frisco jewelry store for a reason – we put quality and creativity into each and every piece. And that goes for more than just gorgeous rings. We also offer necklaces, bracelets, pearls, and so much more. Come in and see.
Engagement Rings Frisco TX
Investing in an engagement ring isn't about buying just ANY ring. It's about finding THE ring. For starters, every person has their own sense of style – this is why finding great Frisco jewelry stores that specialize in custom jewelry and unique engagement rings is crucial.
Either you can choose the ring of your dreams from our huge and sparkling collection, or have one created custom just for you. We have a variety of loose diamonds and band choices, so the possibilities are truly endless.
Whatever you envision the perfect ring to be, we're your go-to fine jewelry store for engagement rings in Frisco, TX.
Your Premier Jewelers Frisco TX
Finding jewelry stores in Frisco, TX that sell diamonds from trusted sources can be difficult. At Village Jewelers, you'll find beautiful, ethically-sourced diamonds, a knowledgeable team, and all the comfort and care you deserve.
Don't wait for sales on our inventory! We keep our prices competitive every day, so you don't have to work so hard to find what you need at a price you can afford. We will work with your budget to find you the very best jewelry for your needs and desires – without breaking the bank.
Don't spend one more moment searching for jewelry stores in Frisco, TX – come on in and visit Village Jewelers today!
I am 21 years old and my girlfriend is 19 and we have been looking for rings for multiple months by now. Most places have tried to take advantage of our age, and our price range. Brett Samuels did not. He was incredibly helpful and he took so much time out of his day to make sure we got the exact ring we were looking for. I can't even tell you how excited and happy he has made us. He gave us a great deal and respected our budget. Please do yourself a favor and go to Village Jewelers. There is no better Jeweler in Frisco!
Address
6959 Lebanon Rd #102
Frisco, TX 75034