Village Jewelers is known for our exceptional service, quality, and custom jewelry. Which is why we wanted to share our passion with you and show off some of the beautiful pieces we've created for our clients.
Sometimes, our clients know what they want, and we merely bring their creation to life, and other times they need a little help with the design portion – either way, we love the journey, from initial meeting to final product!
Custom White & Yellow Gold Diamond Ring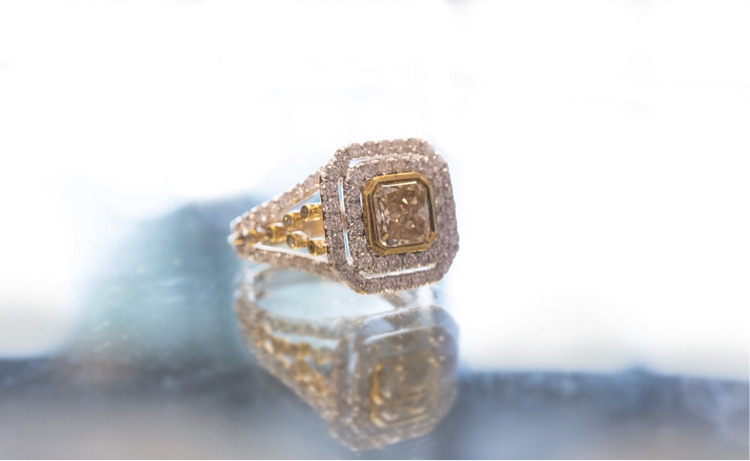 Just look at this beautiful and unique diamond encrusted ring! With its mix of white and yellow gold along with its multitude of diamonds, it's a true showstopper!
Custom Diamond Ring with Some Serious Bling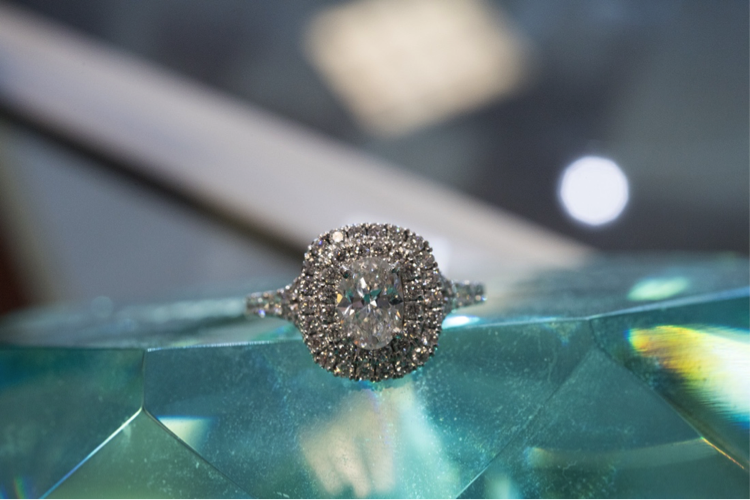 There's no denying that this custom jewelry piece is magnificent, with its large center stone and two enhancing rings around it, as well as diamonds studded on the band – grand hardly covers it.
Black & White Diamond Floral Cocktail Ring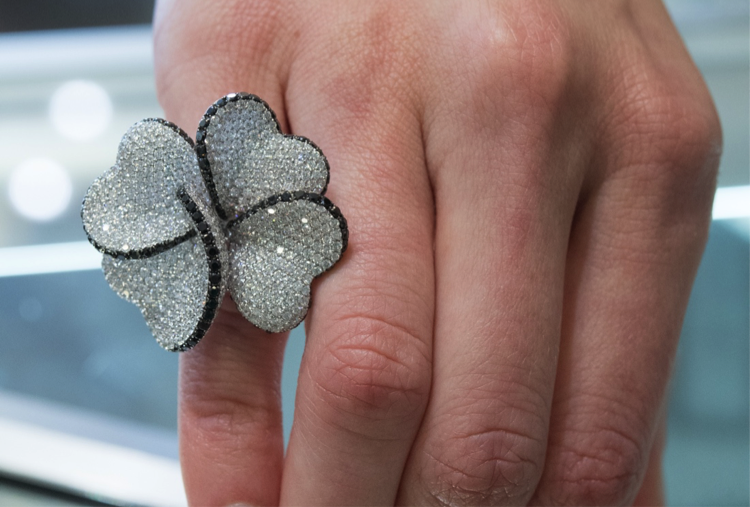 We loved designing and creating this beautiful and unique piece – in fact, it was the very first floral-inspired ring we had ever made. And with the edge of black diamonds, it truly elevated this piece from unique to awe-inspiring.
This Custom Diamond Band is Anything but Ordinary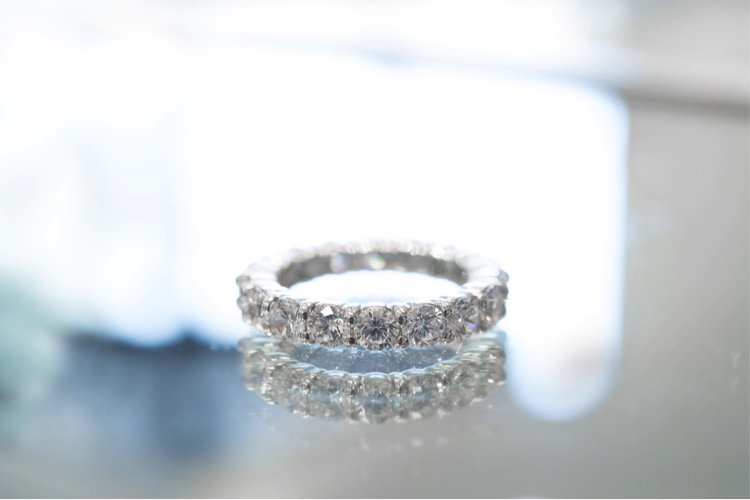 Diamond bands might seem mundane to some, but it certainly wasn't with this client. By using large center-stone diamonds for the entire band, our client essentially made a tennis bracelet for a finger. And the result was stunning.
Custom Pendant & Halo Diamonds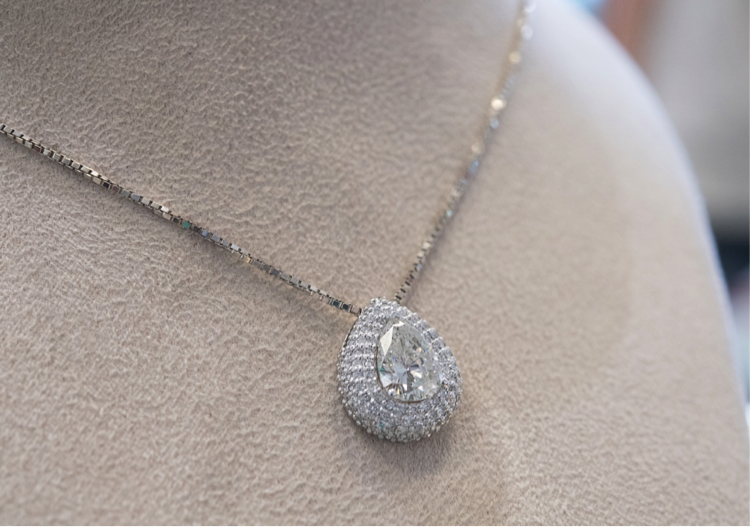 Diamonds, white gold, and halo's spreading from the center stone made this pendant necklace a thing of glory and beauty. The stunning center stone commands attention, while the delicate details surrounding it cushion it as well as enhance it. We loved this design from start to finish – and its owner loves it too!
Custom Jewelry & Diamond Earrings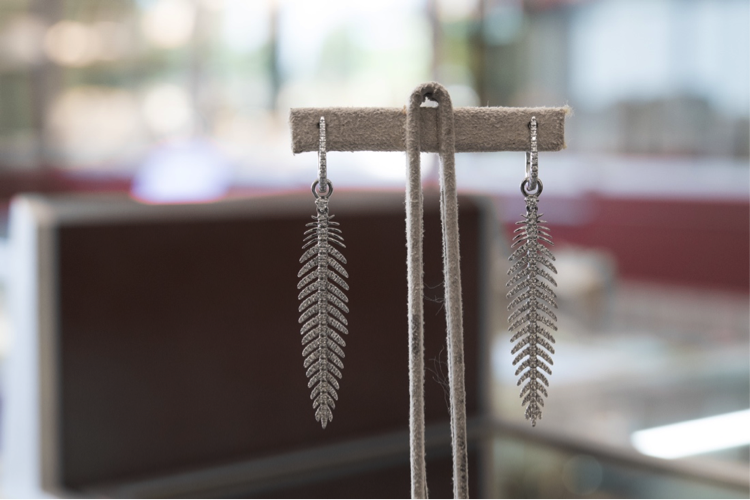 Custom jewelry isn't all about rings and necklaces, we also create bracelets, earrings, and anything else that sparkles and shines. We especially loved the leaf-like look of these diamond custom earrings, as they are delicate, yet sophisticated.
Custom Green & White Diamond & Stone Pendant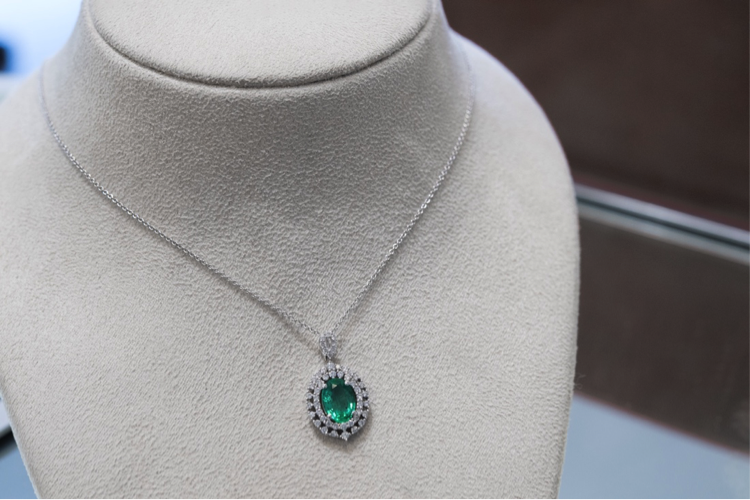 Some people prefer no colors, some prefer black diamonds over white – but we especially love when clients come in looking for a colorful addition to their jewelry box! This gorgeous custom necklace takes everyone's breath away as it brings a pop of color while still holding a fine and clean quality. Many even likened it to royal jewels!
Custom Diamond Ring – Diamonds, Diamonds, & More!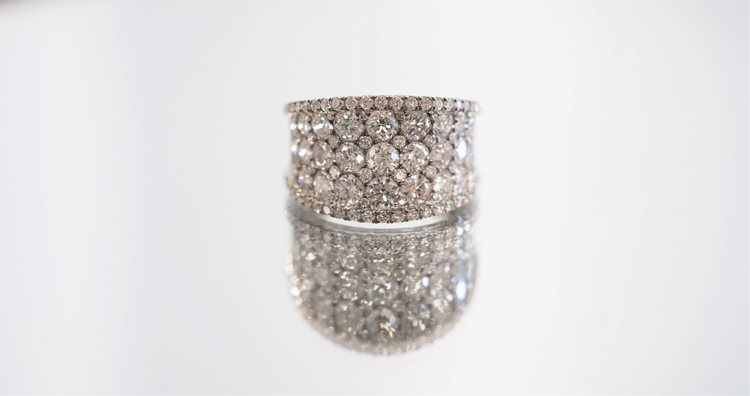 If you are a fan of diamonds (like this client was) then we have the perfect inspirational piece for you! Just look at the layers and layers of sparkling diamonds in this custom ring. By using multiple sizes and layouts, we were able to fill the entire ring with sparkle to ensure it catches light and attention wherever you go!
Contact Village Jewelers Today to Begin Your Custom Jewelry Journey!
Maybe we're a little proud, maybe we're bragging, but we want you to check out the rest of our custom jewelry here! And be sure to check back often for more blogs, visual blogs, and articles.
Call Village Jewelers or stop in to learn more about our custom jewelry process or to get your one-of-a-kind piece started today!